Customer Testimonials Increase Sales: How to Collect and Deploy them Effectively
For the small online business, consumer trust is everything. A customer can purchase almost any type of proucut or service from larger, trusted online suppliers. Why should they take a chance on yours, a business they may not have even heard of?
That's where your customer testimonials come in. Why do advertisers go to such great lengths to gather positive testimonials and display them on their website? Well, testimonials and reviews let people know that your business is trustworthy and worth taking a chance on. Generally, people want to do what they see other people doing - marketers call this phenomenon social proof (and Proof Factor is build on this principal!). When potential consumers see that other people like them vouch for your business, it can have a powerful effect on their attitude towards you.
In this article, we'll take a look not only at ways in which you can gather testimonials, but how you can effectively use them in your website or advertising.
---
Where to Collect Testimonials
1. Send An Email After Purchase
When it comes to gathering testimonials, it's important to strike while the iron is hot - you'll want to reach out to customers while their good experience is still fresh in their minds. Sending a personalized email quickly after they've made a purchase is your best bet.
Early on in the process of gathering feedback, you should try asking open-ended questions:
Would you recommend our product to a friend?
How would you describe your experience?
What was the biggest obstacle?
Was there anything you out after your purchase that you wish you'd known before?
What was your favorite feature of the product?
As you move further along and gather more feedback, you'll get a better idea of what people are responding to, and the qualities of your product that you should highlight in your website copy. Customers will likely appreciate the opportunity to potentially influence the future development of your product.
2. Open Your Facebook Page Up to Reviews
Facebook comes with the obvious advantage of a massive user base. If your company has an active Facebook page with a decent number of subscribers, there's no reason not to open up it up to reviews. Make a post encouraging your followers to do so.
3. Check Out Your Google Reviews
If you do a lot of business locally, it's worth keeping an eye on your presence on local search directories like Google Places, Yelp, and others. Not only are these great sources for useable testimonials, they can also have a positive effect on your engagement from Google searches. Customers will likely view businesses with lots of reviews as more trustworthy.
4. Offer An Incentive for a Review
Ever heard of "you scratch my back, I'll scratch yours"? To increase your chances of getting a lot of reviews, feel free to sweeten the deal by offering customers a small incentive. This could be anything from a discount on their next order to entry into a drawing to win a cash prize. The better the offer, the more reviews you're likely to get.
5. Start a Conversation With Customers
If you're still having trouble getting testimonials that seem useful, it might be that you're trying too hard. Some customers may find it difficult coming up with specific answers on the spot to questions about what they liked about their experience or what they think could be better. Rather than sending the same request for testimonials out to every customer, cultivating a personal relationship with a few of them will likely yield better results.
You may have better luck trying to coax answers out of them through more organic conversation. When customers reach out to you for support with issues they're having, your first priority should obviously be to solve their problem - but you may also want to keep an eye out for compelling stories of their experience.
Great customer service leads to great customer experiences - within these organic conversations will likely be nuggets of information that will make for useable testimonials. Just be sure to ask them first if they're comfortable with you sharing their story.
6. Utilize Google Alerts to Find More Obscure Reviews
Some reviews that customers post may be beyond the reach of the methods listed above such as Google Reviews or Facebook. These reviews may be on a personal blog or other unaffiliated website. Setting up a Google Alert for mentions of your company name, brand name, or the names of your products could be a creative way to capture these obscure reviews.
As always, make sure they're okay with you reposting their feedback on your testimonial page before doing so. Most will likely have no problem with it so long you include a link back to their own website.
---
Constructing Testimonials
Now that you've got the raw feedback, it's time to create your testimonials. It's not as simple as just copying and pasting a customer's words - framing the testimonial in an effective way is part of the process. Here's a few things to keep in mind:
Feel free to edit. You don't have to reproduce exactly what the customer said by any means - feel free to edit them for clarity or length. As long as you're not dramatically changing the message or tone of the customer's words, a little bit of alteration is fine, even necessary. As long as you get approval from the customer for the changes, you're good.
Get specific. It's not enough for the testimonial to say "Great product" or "I had a wonderful experience" - you need to consider what future potential customers will want to hear. Highlight specific traits of your product that customers mentioned improved their experience. You'll want to describe how it benefited them or how it made their lives easier.
Include personal elements. You want the testimonial to be believable and seem personal. You don't want to simply attribute it to "One Satisfied Customer" or something generic like that - include a name, a photograph, or even a link to their website, if appropriate.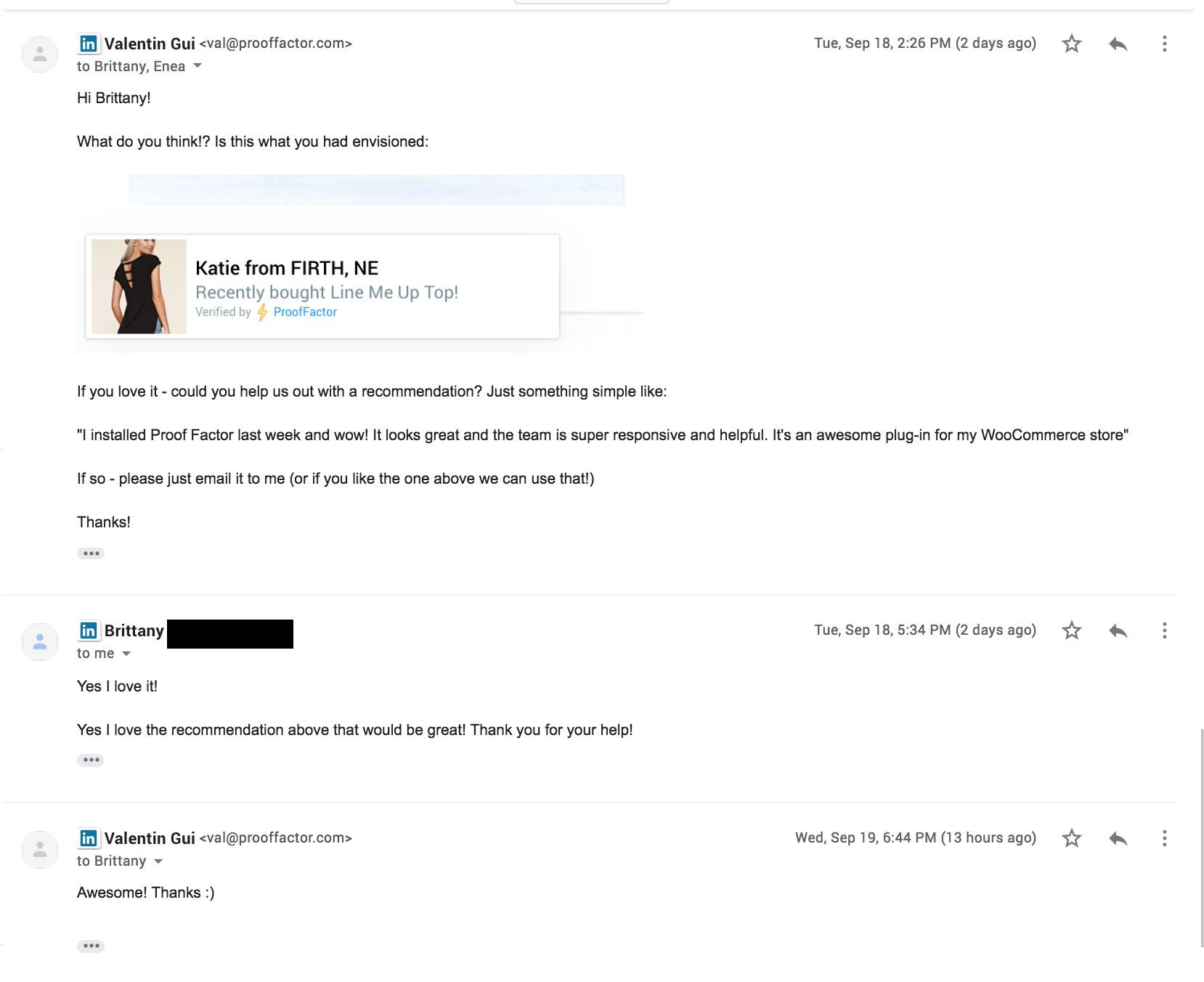 Once you're satisfied with the results, it's time to start using your new testimonials to your advantage!
Using Testimonials in Advertising


So you've built some glowing testimonials and you're ready to deploy them in your advertising. Obviously, your first step should be to include some sort of testimonial page or section on your website's homepage. But you don't have to stop there - here's a few more ways you can use testimonials to help legitimize your business in the eyes of potential customers:
Product Pages
Your testimonials shouldn't just be limited to your homepage - your product pages can include with their own ones, as well. After all, these pages are where your customer will actually be making their purchasing decisions - they'll want to know that others have made this choice, and the positive experience they had with this specific product.
You'll obviously want these particular testimonials to be relevant to whatever product they're displayed by. Your more general ones should be reserved for the homepage. Take this opportunity to highlight your products' strengths.
2. Email Marketing
Testimonials can be added to drip marketing campaigns to increase engagement. Since the goal of these campaigns is to gradually nurture leads with compelling content, it's important to match what the testimonials say to the content of the email.
For example, if the email is specifically targeting small online business owners struggling to increase engagement, highlight how your company helped one such business owner. Be sure to include specific stats and quotes on how much improvement this previous customer saw as a result of their experience with your company.
3. CTA's
Your CTA's represent a critical moment in the conversion process - if anything, your testimonials will be most useful during this time. This is right at the moment your customer may be taking the plunge into the next stage of the process, whether it's purchasing a subscription or signing up for a mailing list. A short testimonial should be included next to this call-to-action, to overcome any final doubts they may have.
As always, the text of this testimonial should match up with the specific call-to-action presented.
4. Social Media
Testimonials are another powerful tool in your arsenal for promoting your product on social media. They can add a personal touch to ads that might have otherwise been lost in the sea of content on sites like Facebook or Instagram.
The personal and social nature of these websites mean that portraying specific personalities that users can relate to is key to success. Include your testimonial in the image or text of your ad to really make it jump out.
5. Quora
People go to Quora to get all sorts of questions answered - and the website represents a significant opportunity for advertisers to generate new leads. When people are on Quora, they're not necessarily just looking for a simple answer to their question. Often, they're looking for a solution to a problem.
Search for questions related to your business, that your potential customers may have, and put your testimonials as answers. If your answer is helpful gets upvoted, that's free advertising right there!
6. Video Testimonials
You don't have to feel tied down to the text quote testimonials - you can also encourage customers to create videos of themselves talking about their experience with your product. These videos should be concise and to-the-point. Just a couple questions will do. For most products, few people will want to sit through a testimonial much longer than a minute or two.
You can use these video testimonials just as you would any of the other ways listed above. They're especially effective for promoting on social media, since it's an effective way to get around Facebook's text limitations.
Conclusion
There's something to be said for the power of social proof. When we see others like us doing something, we can't help but instinctively feel like we should be doing that thing, as well. That's why testimonials are so crucial to any well-rounded marketing campaign - they grant a sense of legitimacy and trust to your product.
Hopefully, you now have some idea of how you can use testimonials to your advantage - not just on your website's homepage, but across the whole range of your marketing, as well.