Give Yourself an Edge - How to Find a Unique Selling Point To Stand Out
The Internet is an endless ocean of options for almost any given product or service. If you're at the helm of a small ecommerce business, it's important to quickly make a name for yourself and stand out from the (literally) thousands of other competitors.
That's why it's more important than ever for your business to have a Unique Selling Point (USP). Also called a Unique Selling Proposition, a USP is what gives you a competitive edge over other companies - it's the main reason that people would buy from you rather than one of your competitors, and it's the quality that customers should think of first when your business comes to mind.
Your USP is distinct from a Call-to-Action in that while you may have many different CTA's throughout your marketing, your USP should be a single consistent, powerful message that's synonymous with your brand.
A good USP should be a reflection of your product or business's best qualities, the crucial something that would entice someone to choose your product over another's. To learn how you can connect with more customers by developing a unique selling point for your own business, check out our tips below.
Finding Your Unique Selling Point
1. Check Out the Competition
Do a quick Google search and make a list of your primary competitors. What are they doing well? What are people saying about them? Compare your features and benefits to theirs. Highlight what makes you different, keeping in mind the specific qualities that you think would compel customers to pick your business over others.
Look beyond the standard features of those in your field. Think in terms of what people will actually consider during that critical moment when they're making that decision to buy.
2. Understand Your Customers
You can't appeal to your customers without first understanding who they are and what they value. We've discussed previously how to get feedback from customers, and a similar approach will be required here.
Reach out to your current customers, ask them for feedback, and see what they're saying they like about your product or service. These features and unique abilities are the ones you'll want to highlight when you're developing a USP.
3. Identify Your Strengths
Once you understand what your customers value, you can begin to think of your own business in terms of how well it meets this criteria. Find out where your strengths lie and which of these qualities would make a great selling point to attract new customers.
The meat of your USP should be the qualities of your business that your competitors can't imitate. It's not about being good at everything. First off, that's not possible. Secondly, the more things you're claiming to be good at, the less credible it will seem. It's more about building a reputation for standing for quality in your specific area of expertise.
4. Develop an Easy-to-Understand Phrase
So you've brainstormed and collected some good information - now you just have to package it in a catchy way. Your USP should be easily boiled down to a simple phrase, but represent the cornerstone on which you build your reputation.
For example, popular athletic supplements brand Modus Nutrition uses the slogan "Innovations Based on Science". This phrase conjures up images of extensive testing and research and concrete results - something that sets it apart in a supplements industry that many people might see as full of quackery and pseudoscience. Their strength lies in this perception of high-quality, tested results.
Your own USP should be much the same - it should wrap all your most unique qualities up in a neat little bow. Think about what will set you apart from other businesses in your field. We've listed a few more examples below.
5. Put Your Money Where Your Mouth Is
Of course, your USP should reflect the actual customer experience of using your product, and not misrepresent your company or feel phony in any way. You should be able to back up your claims with real, concrete actions.
It's not just about what you think your customers want to hear - your own business's culture and values should also influence how you design your USP. If not, you're at risk of misrepresenting your company and what it stands for.
Don't make promises you can't keep! You'll be setting yourself up for failure in the future, and your competitors may even be able to use it against you if you can't deliver the goods.
Examples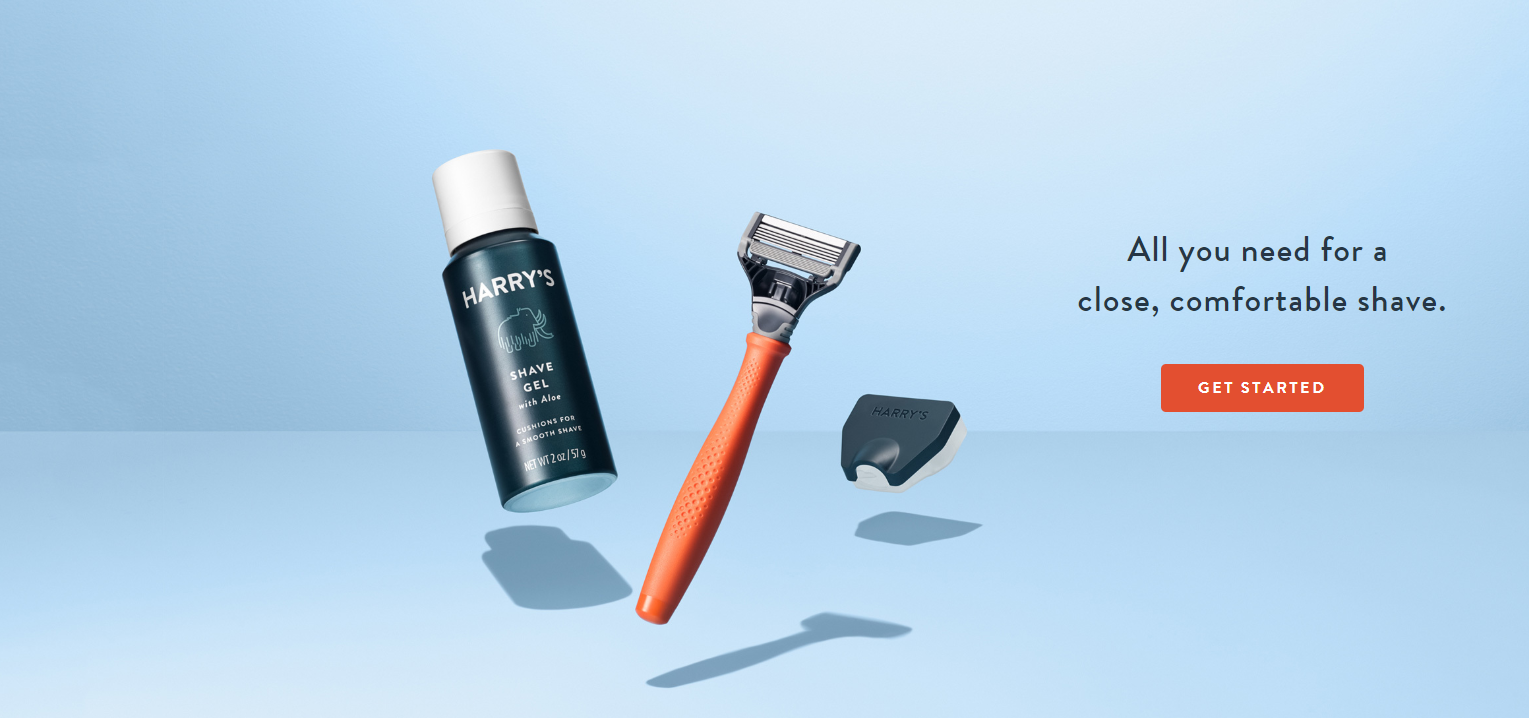 On its website, the men's razor brand Harry's urges its customers to "Meet the Shaving Company That's Fixing Shaving." Harry's started as a razor subscription service that would ship out new razors every month, before it also moved to retail locations. Their About Us page details how its founders identified problems with men's razors, namely with the hassle of going to the store to get them and the low quality of many generic brands. But features like convenience and quality are standard with these types of shave club subscription services. They're no longer unique features in themselves.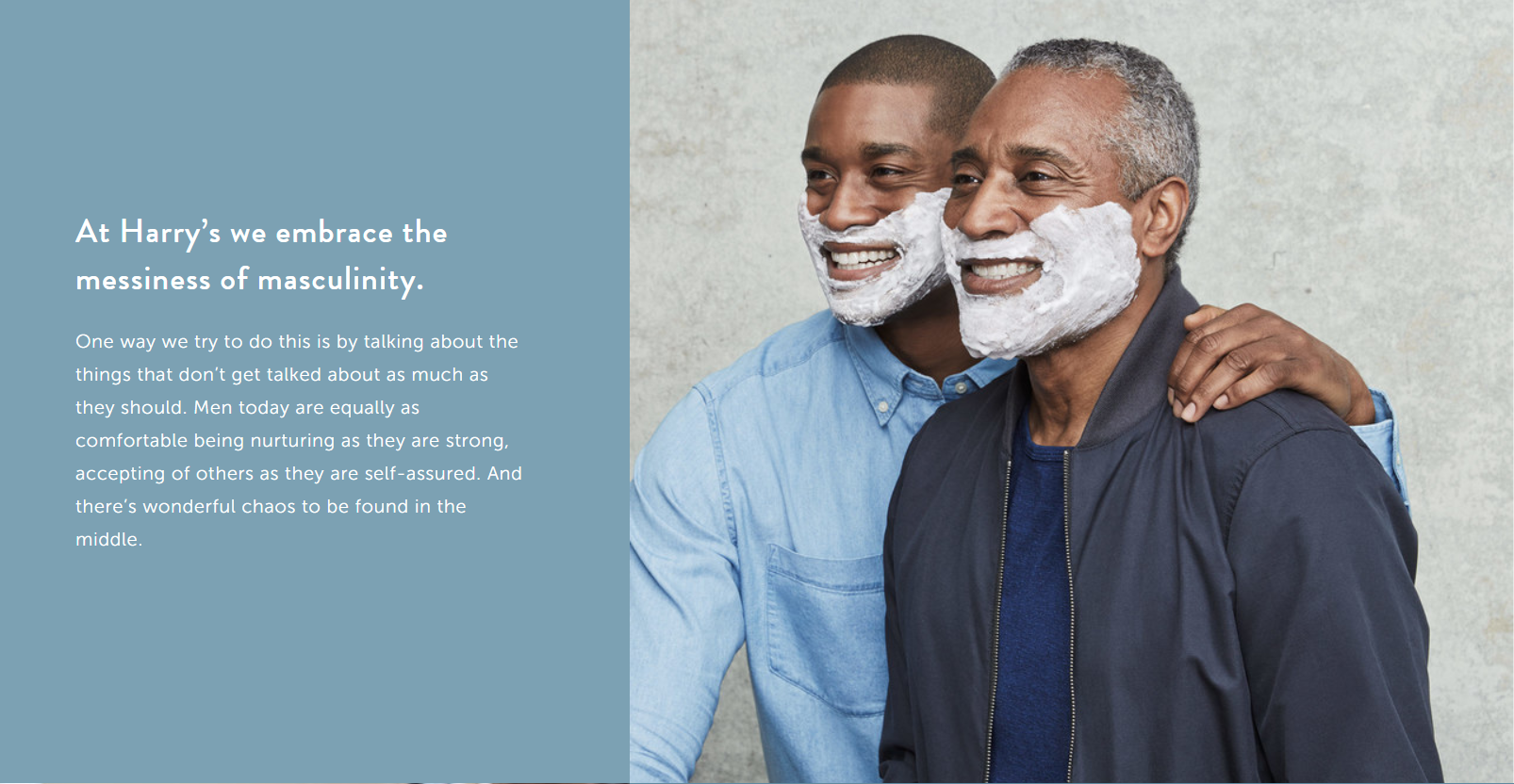 There's plenty of other men's razor companies out there - but one way Harry's sets itself apart is in its conscious rejection of the sort of macho, hyper-masculine branding of many of their competitors. Its website acknowledges the complexity of masculinity and presents the brand as a more thoughtful, refined alternative.
Harry's more refined branding sets it apart from its competitors. By stepping outside of the box and really examining their values, they were able to target a section of their audience that their competitors weren't appealing to.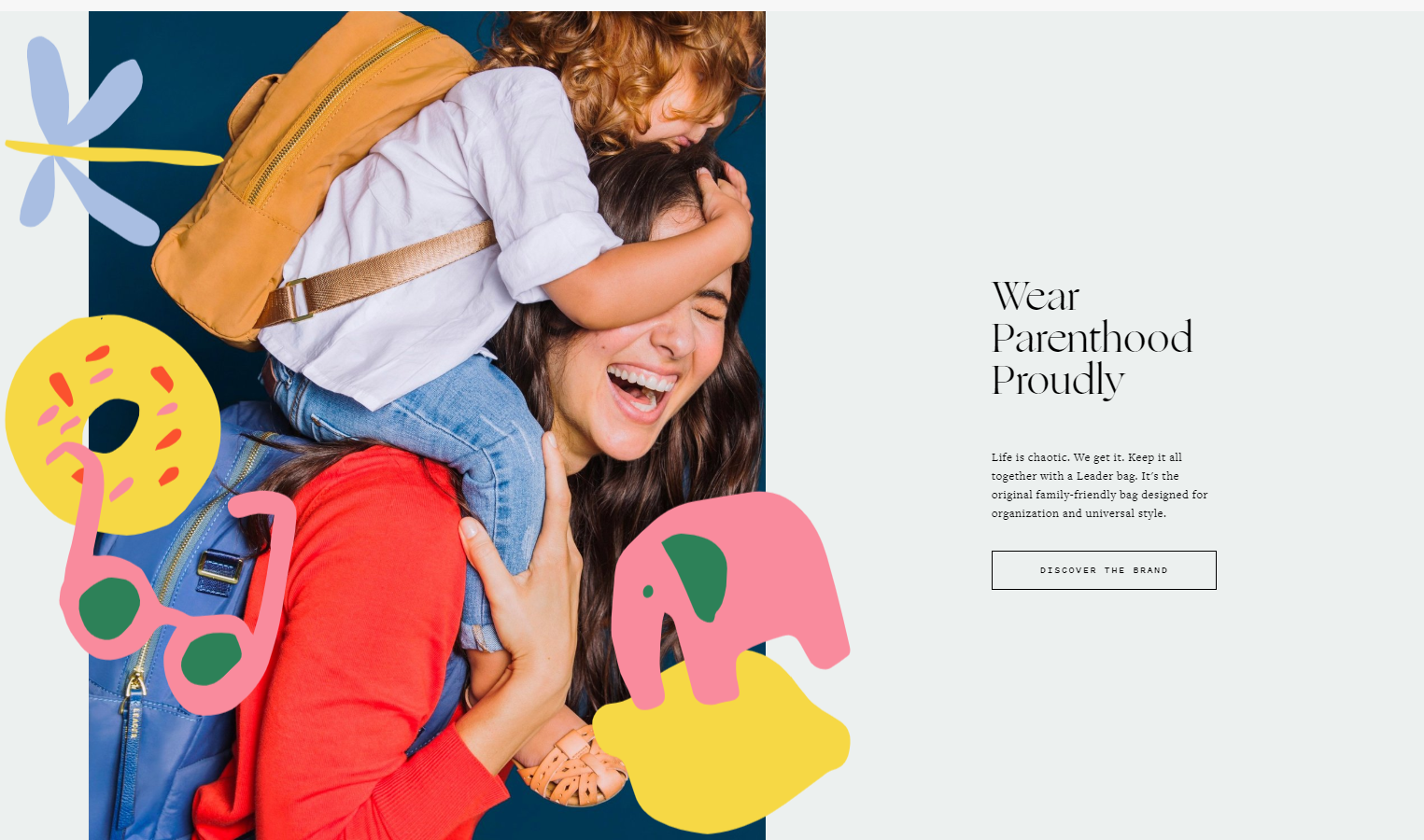 If '80s comedies are to be believed, parents are lame. Online backpack retailer Leader looks to counteract that stereotype with its USP - "Wear Parenthood Proudly".
There are plenty of businesses out there that sell backpacks, but Leader carves out its niche selling backpacks designed with parents in mind, with extra pockets, specialized compartments, larger sizes, etc.
This is a good example of what we mentioned earlier - an effective USP isn't about trying to please everyone at the same time. A childless young millennial will likely find little appealing about a backpack with a special compartment for baby wipes. Rather, it's about finding the qualities of your business that set you apart from the competition. In Leader's case, it's their focus on parenthood - if they tried to portray themselves as making bags for just anyone and everyone, this essential part of their brand would quickly be watered down.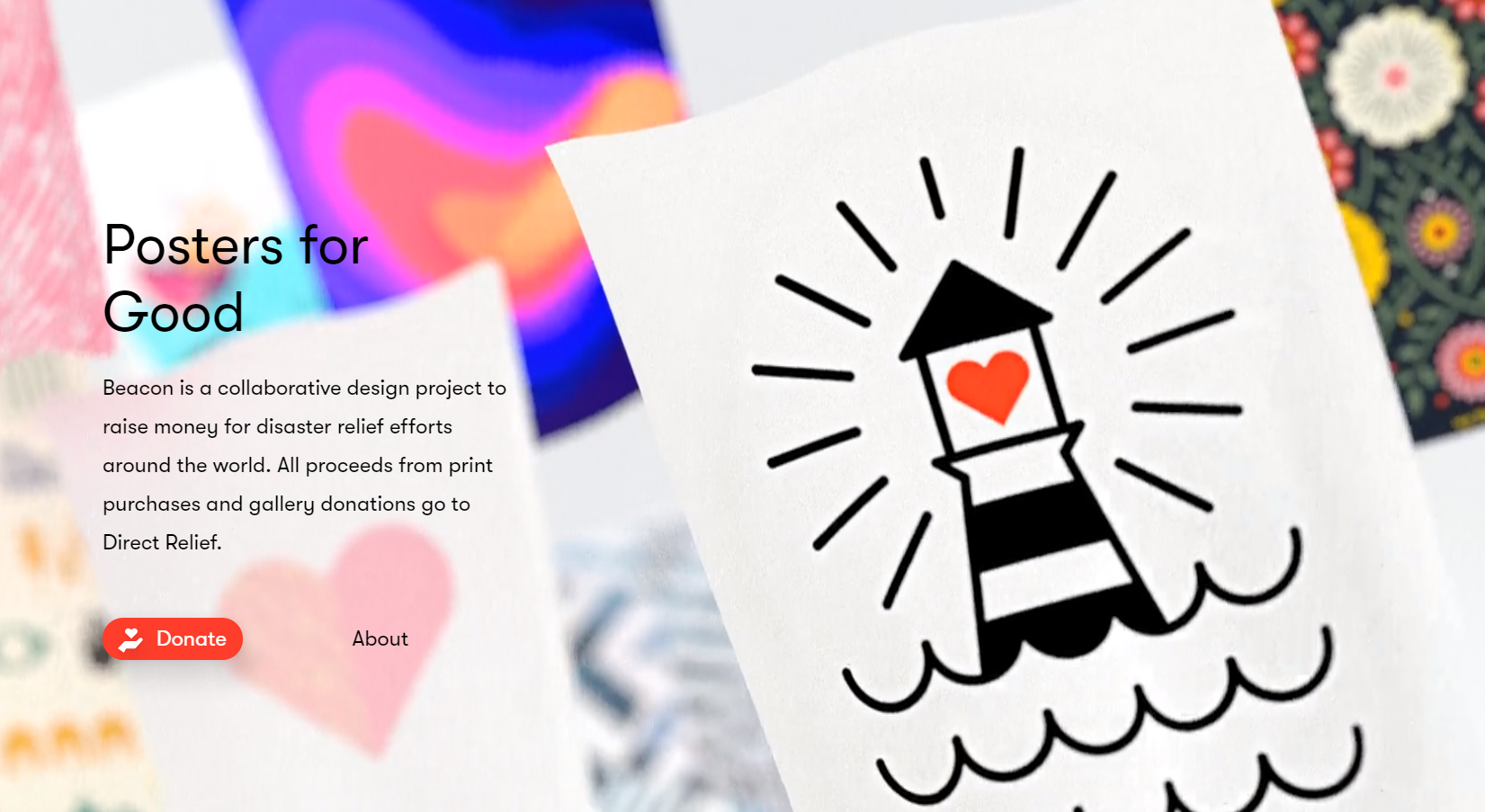 Beacon leads with its values in its USP, "Posters for Good". The online poster company's slogan references the fact that all its proceeds are donated to a disaster relief charity.
Beacon's USP is an interesting look at the different ways in which we can define "value". Sure, there may be other websites where customers can buy posters for a cheaper price. But for many people, that assurance that their money is going towards a good cause could be just as important as saving a few bucks - making it an effective USP for this particular brand.
Conclusion
There you have it, our tips for devising a unique selling point to represent your business. Once you've figured it out, you can begin working to make sure it's communicated clearly on your website and across your marketing.
Your business might not be better than your competitors at every single thing - there will always be someone else out there with cheaper prices, or a bigger selection, or more shipping options (unless you're Amazon, in which case - what are you doing reading this?). But with an effective USP, it won't matter - you'll still be able to attract customers who know your business stands for quality in its specific field. You won't have to compromise or water this message down to appeal to a wider audience.
Take a close look at your strengths in comparison to your competitors, combine it with feedback from your customers, and add your own business's values. Put them all together and you should have an answer to the question, "What makes your business the best at what it does?"