Writing an Effective Welcome Email (With Examples)
So you've managed to get people interested in your business, and they've signed up for your mailing list. Now it's time to make a great first impression and set them on the path to becoming paying customers.
To do this, you've got to send them a killer welcome email. A welcome email is an automated message sent to your new subscribers that provides them information and makes it as easy as possible for them to take the next step.
Why is your welcome email so important? Well, for starters, it's your first chance to give your customer a good first impression of your business. Plus, they have a much higher open rate than other types of emails. That means you have to set the right tone with your welcome message and really make it count. This may seem obvious - but it's something that many businesses get wrong or neglect entirely.
If a user signs up for your mailing list and doesn't receive anything right away, they might forget why they signed up in the first place by the time you finally do get around to sending an email. Before long, you'll be consigned to a fate worse than death - unsubscription.
Whether "unsubscription" is a word or not (we're actually not sure!), it's clearly something you'll want to avoid. Check out these tips for writing a great email that will warmly welcome new subscribers and start your relationship off on the best possible foot.
---
Send your welcome email as soon as possible.
As mentioned above, time is of the essence when it comes to sending your welcome email. If your newsletter signup comes with some kind of incentive or special offer, you're going to want to send it as quickly as possible. Your subscriber may be waiting to make that purchase immediately and will want that promo code!
Say "Thank You".
Saying "thanks" is just good manners - this goes double for your emails! Your customer took time out of their day and trusted you enough to sign up for your mailing list, and this courtesy should be reflected in your response.
This isn't just any normal email, so make sure to include a welcoming note to distinguish it from others that may be clogging your subscriber's inbox. If you've got their first name from the mailing list signup, be sure to use it in your greeting. This is much more likely to catch their attention.
People like to feel appreciated - a little personalized touch can help increase conversion.
Provide an introduction.
Use your welcome email to show your subscribers what you're all about. They might think they know what your business has to offer, but this is your chance to show them more. Be sure to emphasize what makes you special and why they should be paying attention to your emails.
Check out this segment of a welcome email from DSTLD, an independent online clothing retailer: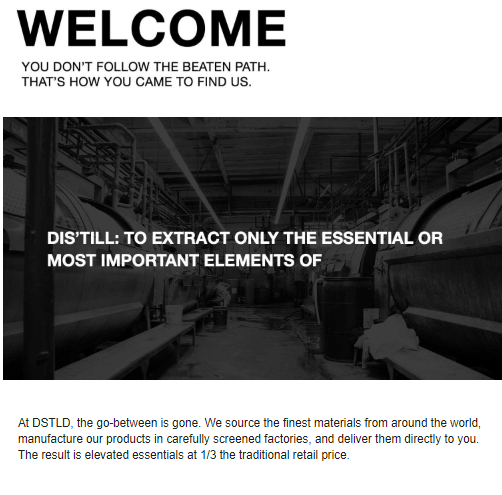 Right from the get-go, theyre telling their subscriber what they value and what sets them apart. According to them, their manufacturing practices and lack of middlemen make them different from other companies, and the email's copy highlights these features. Your own welcome email should do the same for your business.
Tell subscribers what to expect.
If you're hoping that subscribers will open your future emails, and not just your first one, you've got to let them know what they can expect from you. Be as transparent as possible - let users know how frequently you'll be emailing them, let them change their preferences easily, and remind them of how they ended up on the mailing list every so often.
Check out this email welcoming users to Alamo Drafthouse's Victory Rewards program: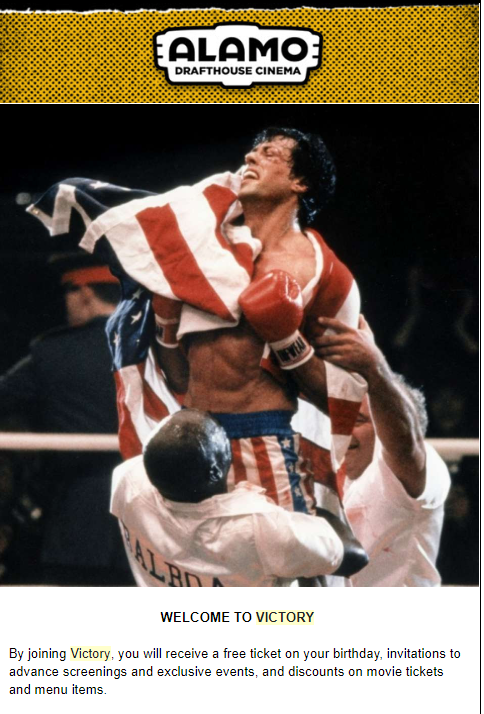 This tells subscribers exactly what they're going to get from subsequent emails: a free birthday ticket, advance screenings, and discounts on menu items. If they know what to expect, it will just make them that much more likely to keep an eye out for any future emails. They could be eagerly anticipating your next exclusive offer.
Remind subscribers to whitelist your address.
"Whitelisting" refers to when subscribers add your email to their address book. If they don't do that, your carefully-crafted emails may end up languishing in their spam folder. Emphasize that they'll be missing out on special offers if they neglect to whitelist you.
Deliver something of value.
This is the meat of your welcome email. You've got to give them something they can really sink their teeth into - a promo code, a discount on their first order, or something else of clear value to them as customers.
This portion of an email from Banana Republic is a good example of how to deliver value succinctly: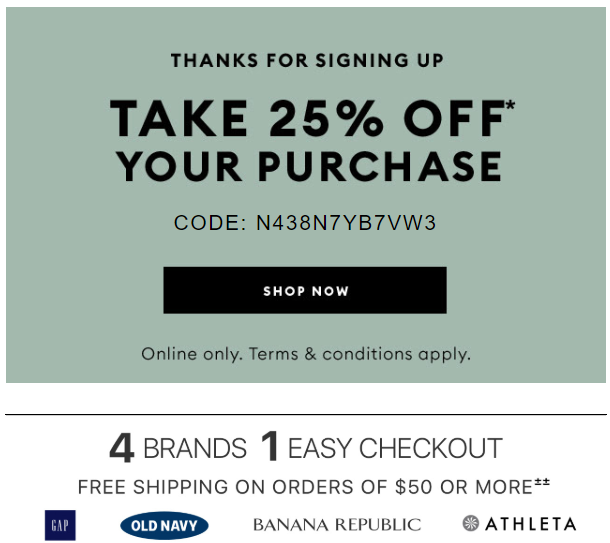 The subscriber is immediately prompted to become a customer with a strong 25% discount. Your own welcome email should similarly deliver subscribers real value. This doesn't necessarily have to be a discount or special offer - it can also be links to relevant blog posts or other useful content.
Include a strong call-to-action.
This is closely related to the last tip - your subscriber should have a clear idea of what the next step should be to engage further. Don't clutter your email with a bunch of different CTA's - keep it simple.
For an example, check out this email from UberEats: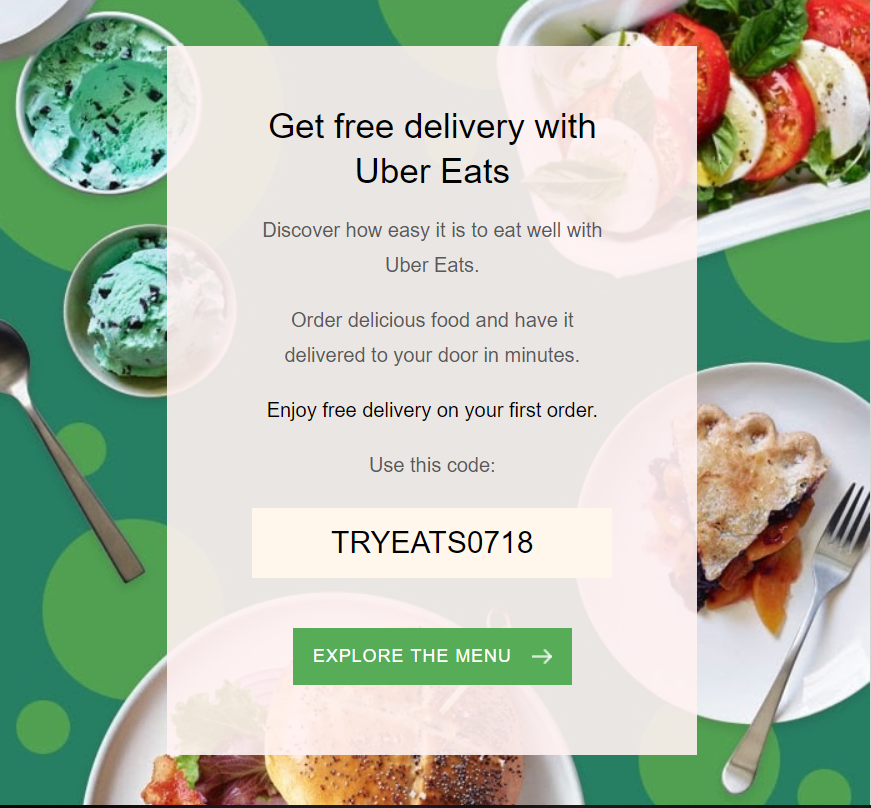 This email has a promo code and offer as we mentioned before, but the "Explore the Menu" button is the one that's really guiding the viewer forward. There's no confusion about what they should do next - they can simply click and check out the menu at their leisure.
Use images to your advantage.
Images have a powerful effect on the human mind. They're a great tool to help your users retain information about your business. Your welcome email is an opportunity to hit them with the best images you've got.
Online watch retailer MVMT understands the importance of using striking images: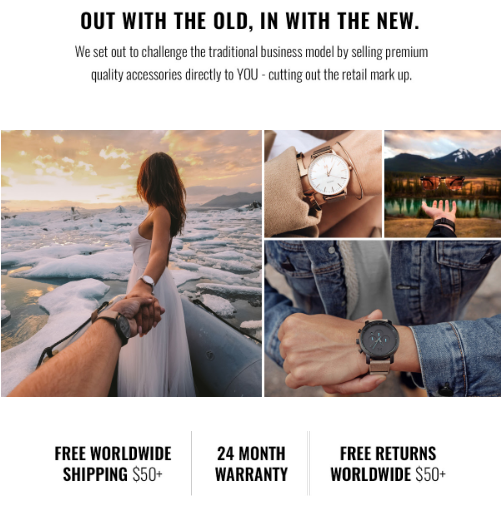 These images are unique and show the wide variety of products that MVMT has to offer. Your images should portray your product or services in the best light possible.
If you can't afford to shell out the money to create your own images, there are other options available.
Include social media links.
This one's a no-brainer. Make sure to include links to all your social media page somewhere in your welcome email. Invite your subscriber to engage further and familiarize themselves with your brand.
You don't want to overwhelm the new subscriber with a ton of links - this doesn't have to be a huge emphasis in your email or anything - just make sure that you include them somewhere. Check out the end of the above-mentioned DSTLD email: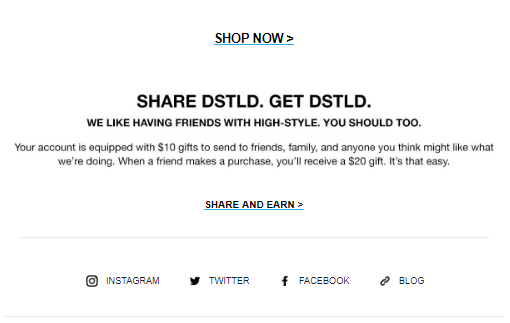 The social media buttons are unintrusive, yet easy to access. Giving your subscribers this option is a simple way to help drive more engagement.
Keep it mobile friendly.
Every part of your business's online experience should be easily accessible on a variety of devices, and emails are no exception. Mobile opens account for up to 47% of all email opens, making accessibility more of a priority than ever.
---
Your welcome email could be one of the most important emails you send. At the very least, it's one of the ones that your subscribers are most likely to open.
In your quest to turn subscribers into long-term customers, the welcome email is a key tool in your arsenal. If the one you're sending out is lackluster, or, worse, if you're not sending one at all, you're missing out on a key opportunity to increase engagement and bolster your email marketing ROI.
Using the tips and examples above, you should be well on your way to writing a welcome email that will give you a head start on growing sales right from day one.