If you're not driving 40% of your revenue via Email Marketing - you're missing out. Read how to use Proof Factor's Incentivized Email Collection Wheel to get there.
Email Marketing Benchmarks
Every e-commerce store wants to increase their revenue, but are you taking advantage of the low hanging fruit? Good email marketing is one of the best ways to increase your revenue substantially. E-commerce marketing platforms like Klaviyo say that their top performing customers can get up to 40% of their revenue from email marketing, and that if you're getting under 25% of your revenue from email marketing, you may be missing significant revenue opportunities.
Email marketing is exceptionally profitable; it allows you to engage with customers at a very low marginal cost (you've already done the hard work of bringing them to your site and getting their emails), retain existing customers and, over time, learn more about these retained customers so that you can send them emails that are much more targeted, and more relevant (with higher conversions), to your potential and previous customers.
How are you capturing emails
As you think about building out your customer emails strategy, you first have to start with the emails themselves. It doesn't matter how targeted your emails are if you don't have people to send them too! As you build a larger list, you'll have more ability to segment customers, drive sales and keep your site growing.
However, in this day and age, users and customers really dread "another newsletter".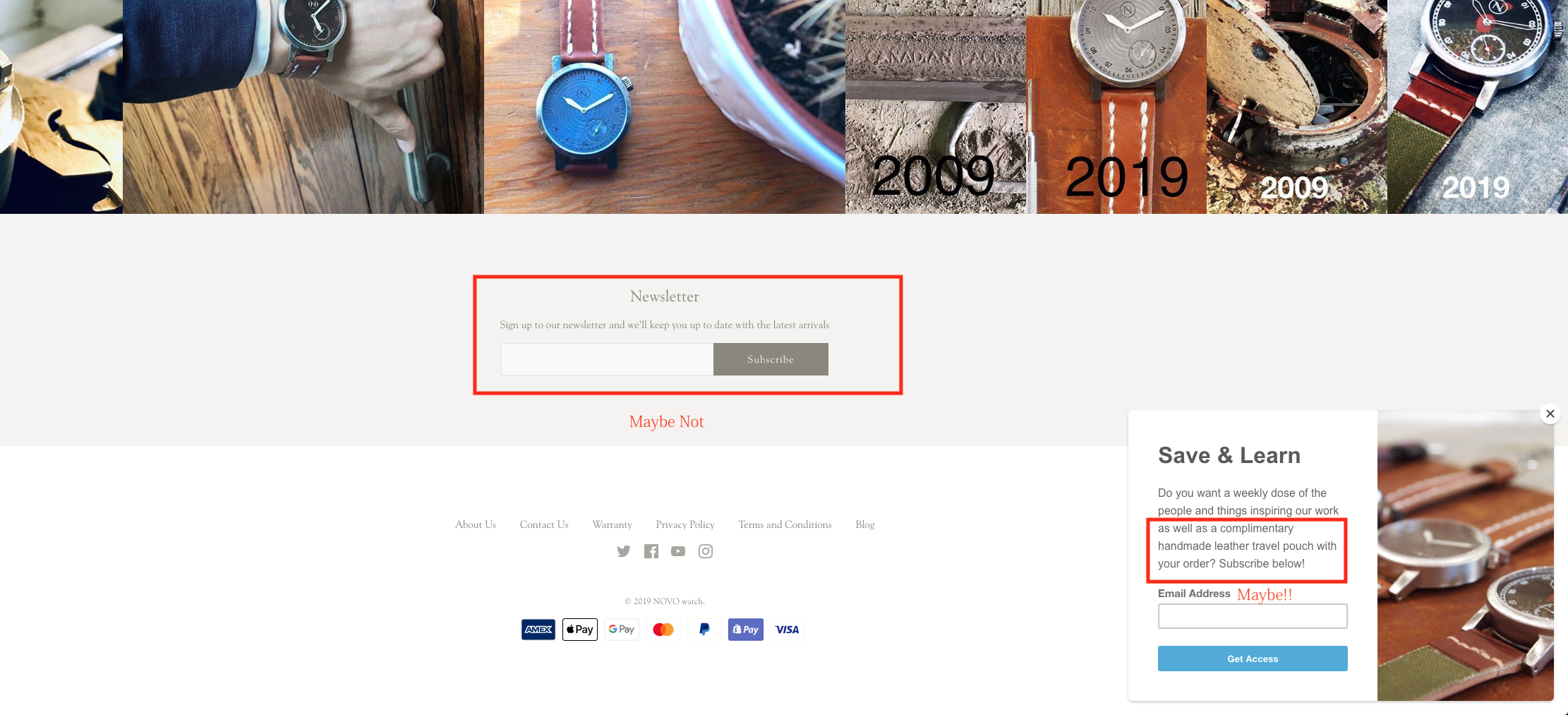 Think about your own personal email address; how hesitant are you to give it out. If an online store asks for an email address, how likely are you to give it to them? The answer is probably… NO. This is especially true if the only "incentive" is to "join our newsletter". There are few cases where a user or customer finds your content sooo compelling that they're willing to sign-up for your newsletter. And if that's the case (and it probably is - trust me) you need to think a lot more about what your customer DOES care about. Emails are getting more and more cluttered, how many newsletters do you think your customers are already signed up for (answer: a lot). Do you think they are excited to sign up for one more without getting something out of it?
Thinking about email collection
So, let's think about email collection. What makes someone significantly more likely to give you their email? When was the last time you gave out your email to a website; was there a good reason for it?
Most likely, the site offered you something of value, something that you couldn't pass up and you deemed it worthy of your email address. What was it?

Second, how easy is it for a site user (hopefully an eventual customer), to give you an email address? The corollary to this question is; if it's a one step form, is that enough for you to provide them with a compelling follow-up email? The answer might be 'No', that you need more information about the user to really be able to show them an email that's interesting to them. Information like first name, products looked at and products purchased. Or the answer might be yes, but you might have to bundle an incentive into the email so that they engage. There is a balance that you have to strike; the more information you request of your user/visitor, the less likely they are to give you their email; but the less information you gather, the harder it is to email them with relevant information.
Putting it all together - The Proof Factor Incentivized Email Collection Wheel (i.e. Fortune Wheel)
This is why, at ProofFactor, we created our incentivized email collection wheel, to help you increase your email collection to supercharge the emails that your sending. Customers are seeing up to a 10x increase in email collected over traditional "join our mailing/newsletter" pop-ups, so you'll be creating substantial revenue out of your email campaigns in short order.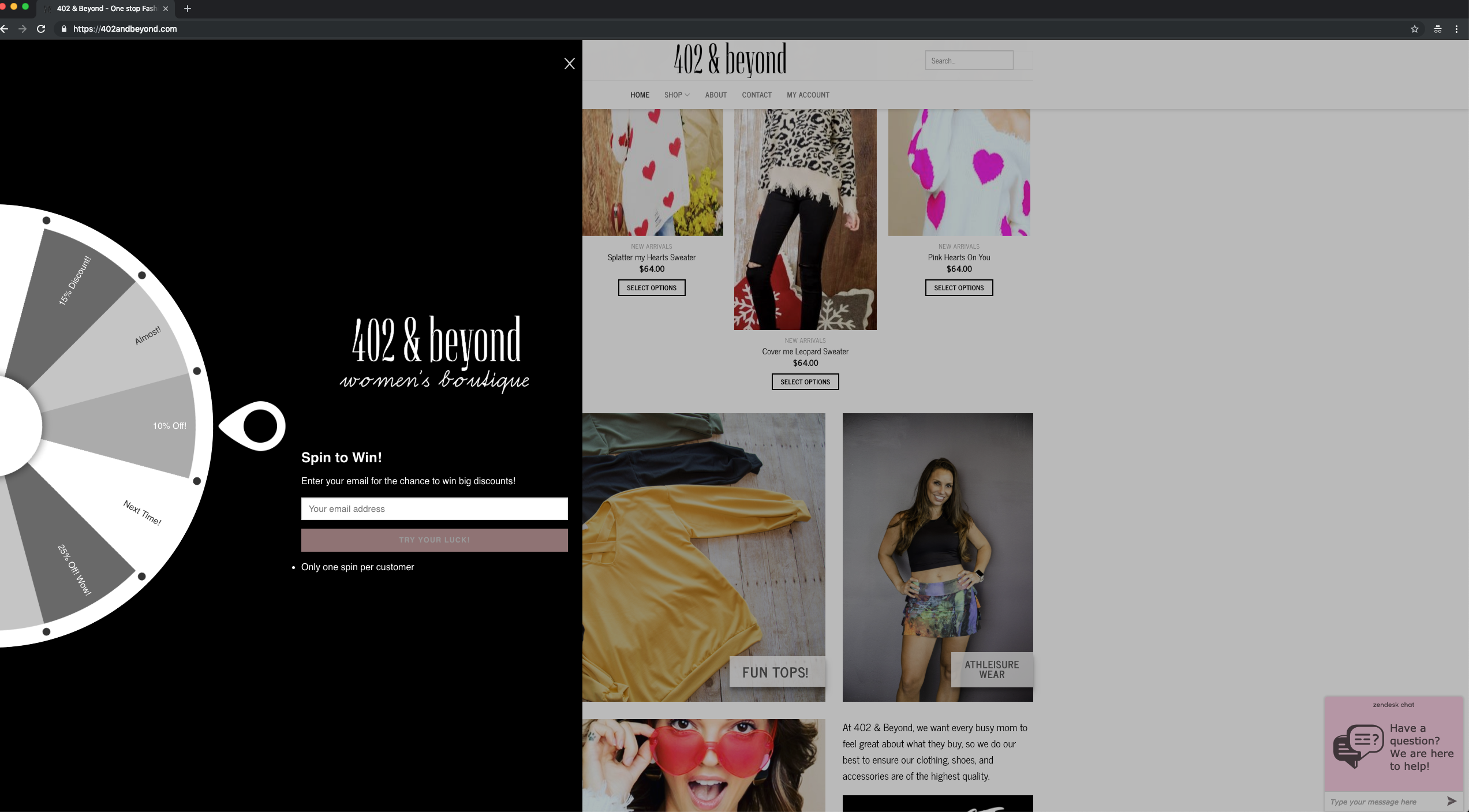 The Fortune Wheel:
Asks users for emails at the best times possible
Allows you to grow sales immediatelyand ALSO collect emails
Incentivizes Email collection with coupons
Is highly customizable design so it's a part of your site
Best of all - it's completely free
Get Going!
Any good email marketing plan requires that you take a methodical approach to re-engaging website visitors and previous customers. That plan starts with email collections. The more emails you have, the more leverage you have and the more revenue you can drive with those emails. Because email marketing is so highly profitable, it should be a major part of your revenue strategy. Get started today, and turbocharge your store!