Using Multi-touch Communication with SMSBump to Increase Sales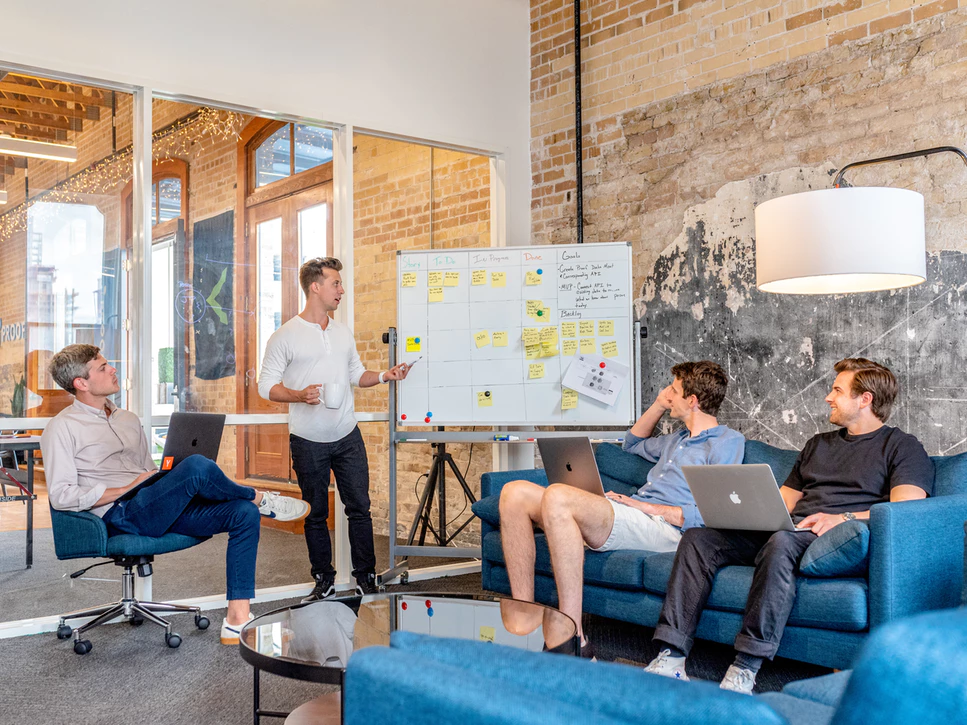 Today, customers live in a complex buying world. They can purchase in traditional brick-and-mortar shops, as well as online, via social media, phone, etc. This allows a potential customers to make a purchase almost anywhere or anytime - but for shop owners trying to reach these customers, it means more distractions and new thinking in how to reach these potential shoppers.
This is where multi-touch communication comes into play. Multi-touch communication is reaching out to your customers via a coordinated campaign in different marketing types, like mail, email, ads or newer strategies like text messaging.
Why Multi-touch Marketing?
With a multi-touch campaign, you're able to boost effectiveness by getting your message across several different ways at once. A good example is to start with a postcard promoting your brand or message and then sending out the same message via Text, Push Notification, or Email.
All three channels serve their own purposes, and when you are deciding on how to engage with your audience properly, there are pros and cons of each.
New Wave of Multi-touch Consumer Communications
Emails are great for sending out long messages (e.g., account details, full product descriptions, etc.). However, they've become common place and many consumers now ignore them. For example, research shows that 98% of all text messages are opened as opposed to 22% of emails.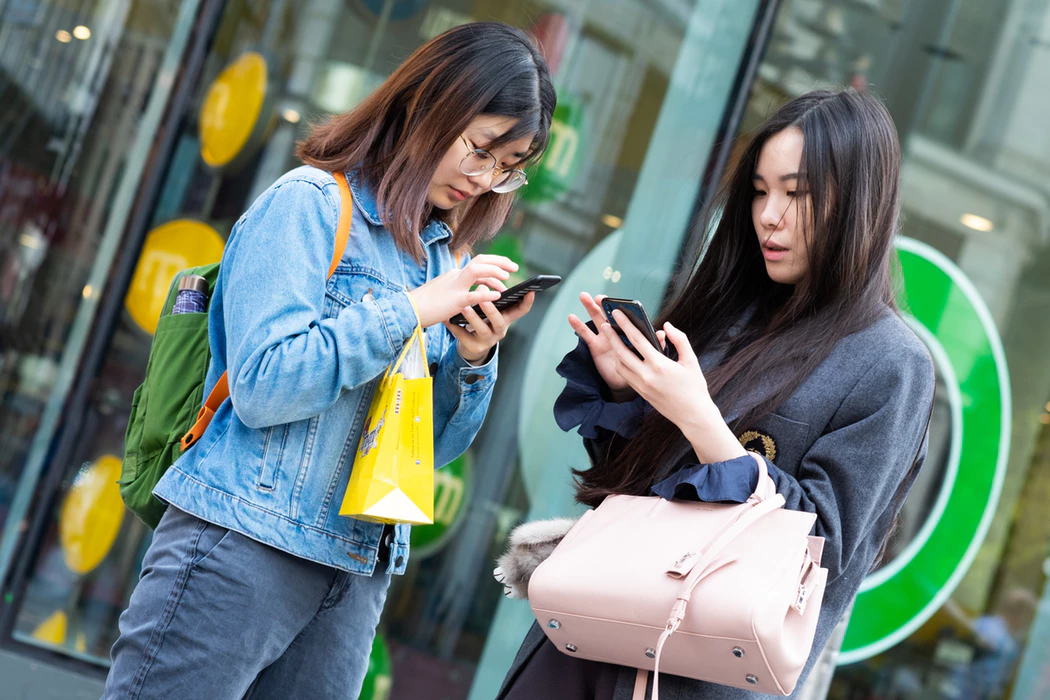 This leads to the question, what outreach types are most effective in actually being read by your customer and leading to engagement or purchase.
A multi-touch medium like SMS will work whether or not your customer has a smartphone; it allows you to reach pretty much everyone who has a phone. SMS remains a fantastic medium for staying top-of-mind for your audience, leading to the evolution of business communications.
How to Do It Well?
Compared to other marketing channels, SMS marketing is one of the best customer engagement tools.
To get started, you need contacts and phone numbers. You also need to use a platform like SMSBump that will give you the ability to set up text campaigns and walk you through the steps necessary to be effective. You also need consent to send those your text messages, which differs based on where you're located. Make sure you get consent, otherwise, sending text messages is considered spam and you will get in trouble for it!
Using Text/SMS to Engage with your customers - Step By Step w/ SMSBump
Let's walk through how to set up an effective text campaign with SMSBump.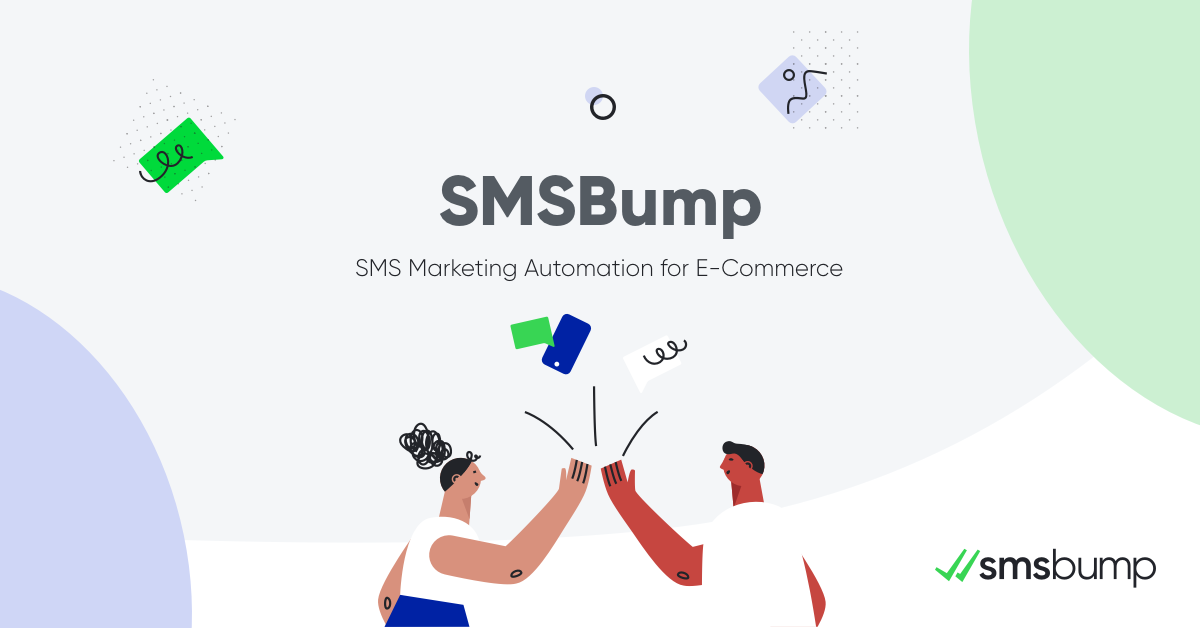 What is SMSBump?
SMSBump allows you to send texts to prospects who haven't bought anything from you in a while, send discount codes, coupons, and even abandoned cart reminder texts.
You can use SMSBump in many ways, and we've already mentioned a few in the beginning. For instance, shareable links and SMS keywords allow for:
Sharing via social media campaigns to drive text sign-up
Keywords can be tied to coupons/campaigns to encourage users and purchases (incentivized purchases/text sign-ups)
To run successful text-based marketing, however, you must utilize three of the most effective tactics available at your disposal.
Creating Pop-Ups to Drive SMS Sign-Up
Popup signup forms help you grow your contacts and receive approval from prospects to send them text messages that boost sales and consumer retention.
Once you have an SMSBump account, simply head over to SMSBump Dashboard > Subscription Form, select the popup form type, and enter the form editor. Here, you can customize your sign-up popup form for collecting contact numbers in different pages across your website.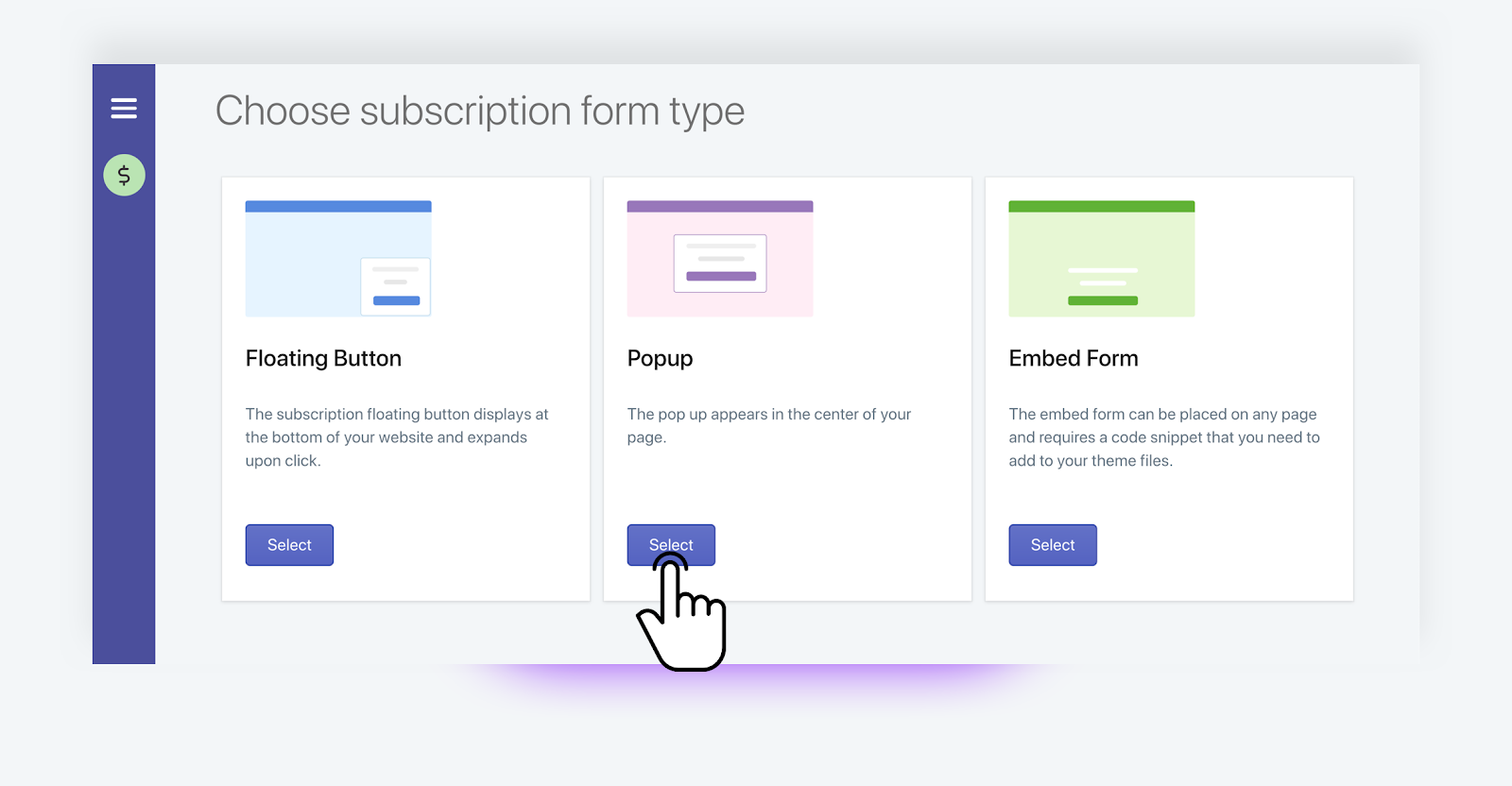 You can customize your form text, appearance, the confirmation SMS, and each additional field you want. Furthermore, you can customize the pop-up behavior, which is unique for this sort of signup form in SMSBump.
For example, you can create an exit-intent popup that's triggered whenever a user goes for leaving your store. You can pair this with a targeted popup that is specific for each category in order to make your offer personalized as per your customers' interests.
Here's how you can achieve this:
First, you need to Enable the Set Delay feature and check the "Show when a visitor is exiting the page" option.
Next, set the Frequency as per your requirement.
Finally, select "Show on specific URLs" and paste the link of your desired webpage where you'd like the exit-intent popup to display.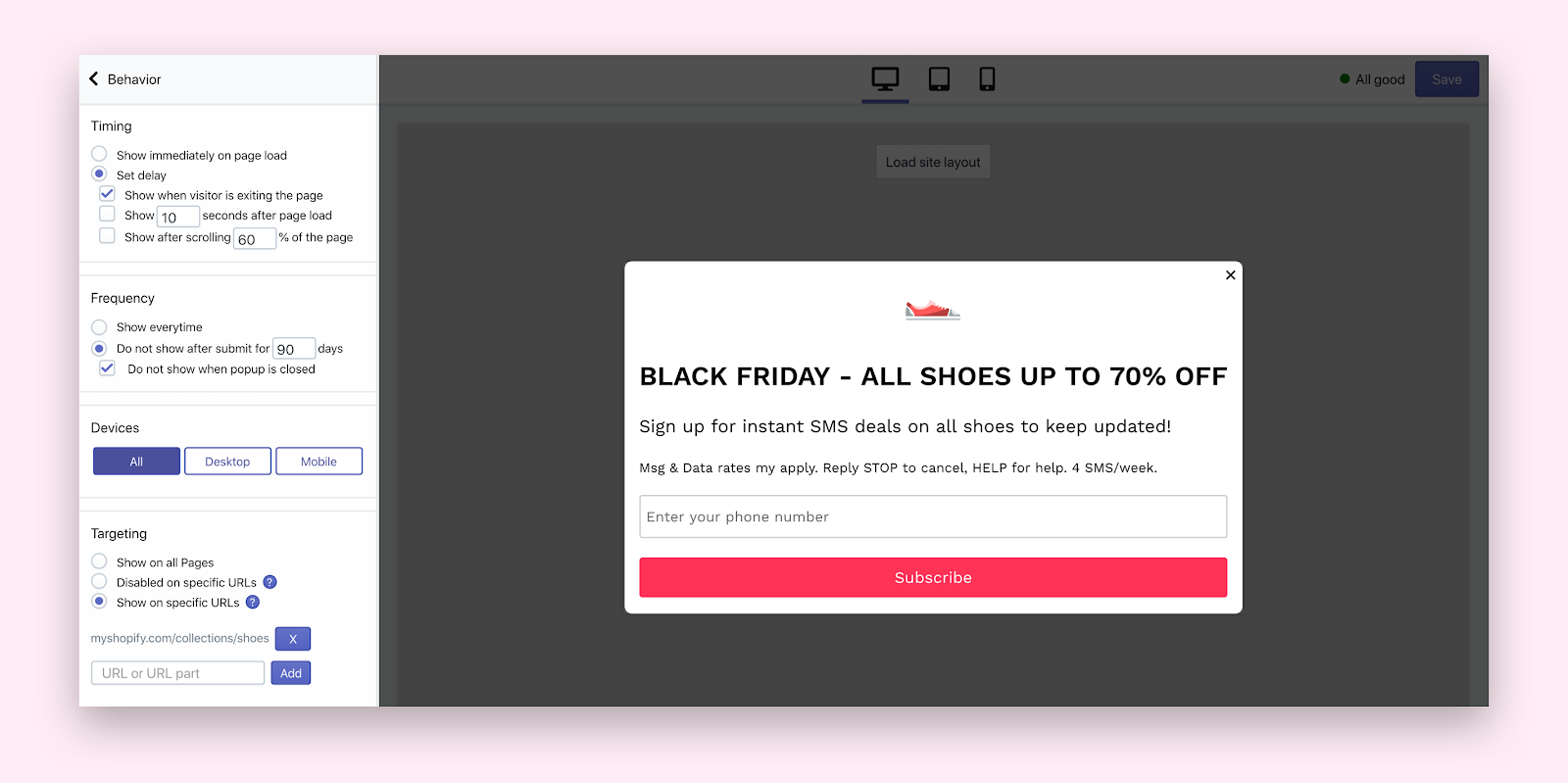 It's relevant, attention grabbing, and actionable.
Create Effective Text Messages
With the help of Strength Meter, you can now craft more engaging text messages. It gives you guidelines on how to enhance your SMS by adding basic details like your store name, an opt-out option, a discount, etc.
Here's how it works:
First, head over to Text Marketing from the SMSBump side menu and create a new message. When you scroll down to the text field, you'll find the Message Strength meter right underneath.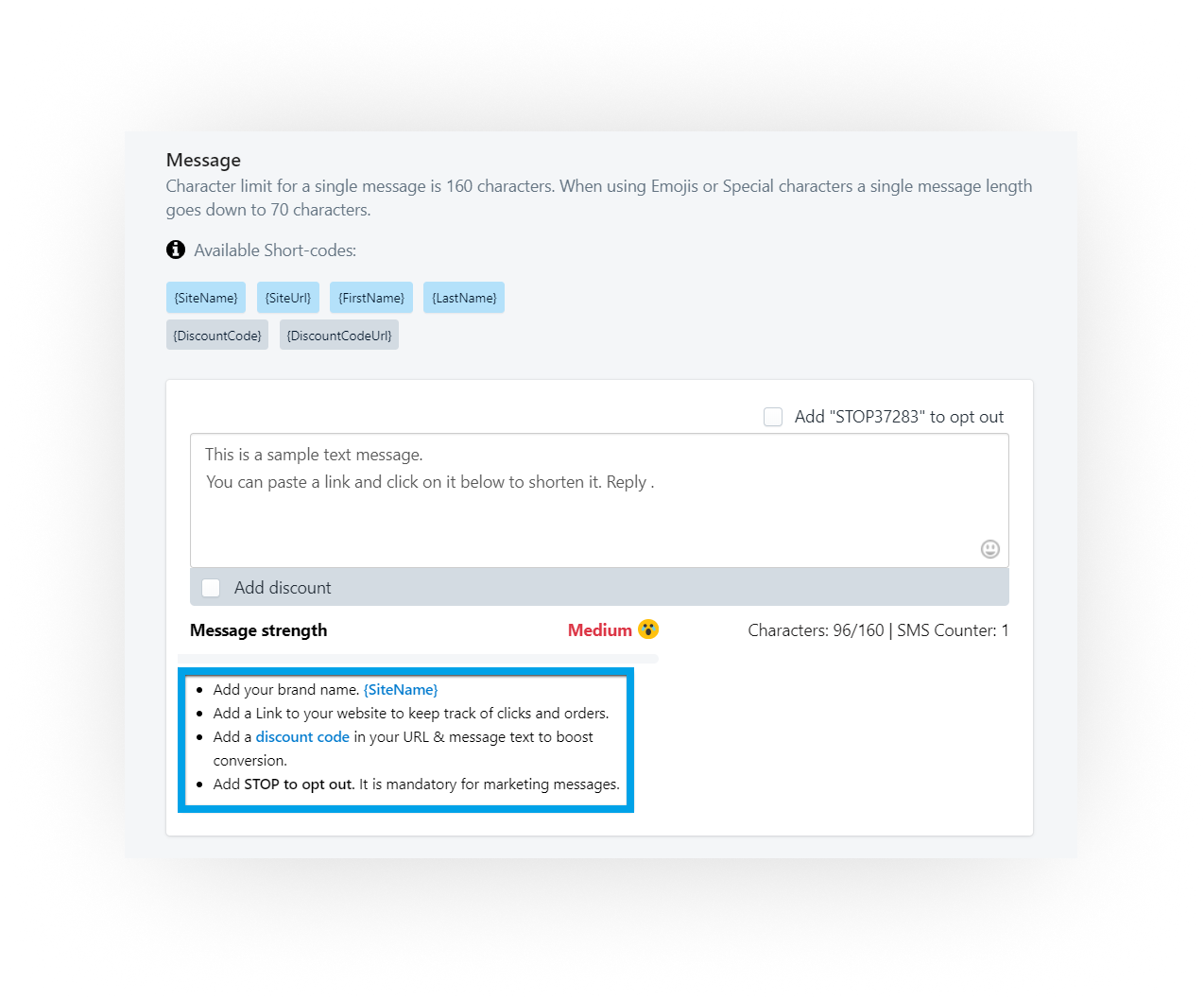 Now, type in your message, add your brand name (SiteName), add your URL (collection, product, home, or landing page), add discounts (more into this later), and add an opt-out option. Make sure your meter strength is medium or powerful as the screenshot below shows.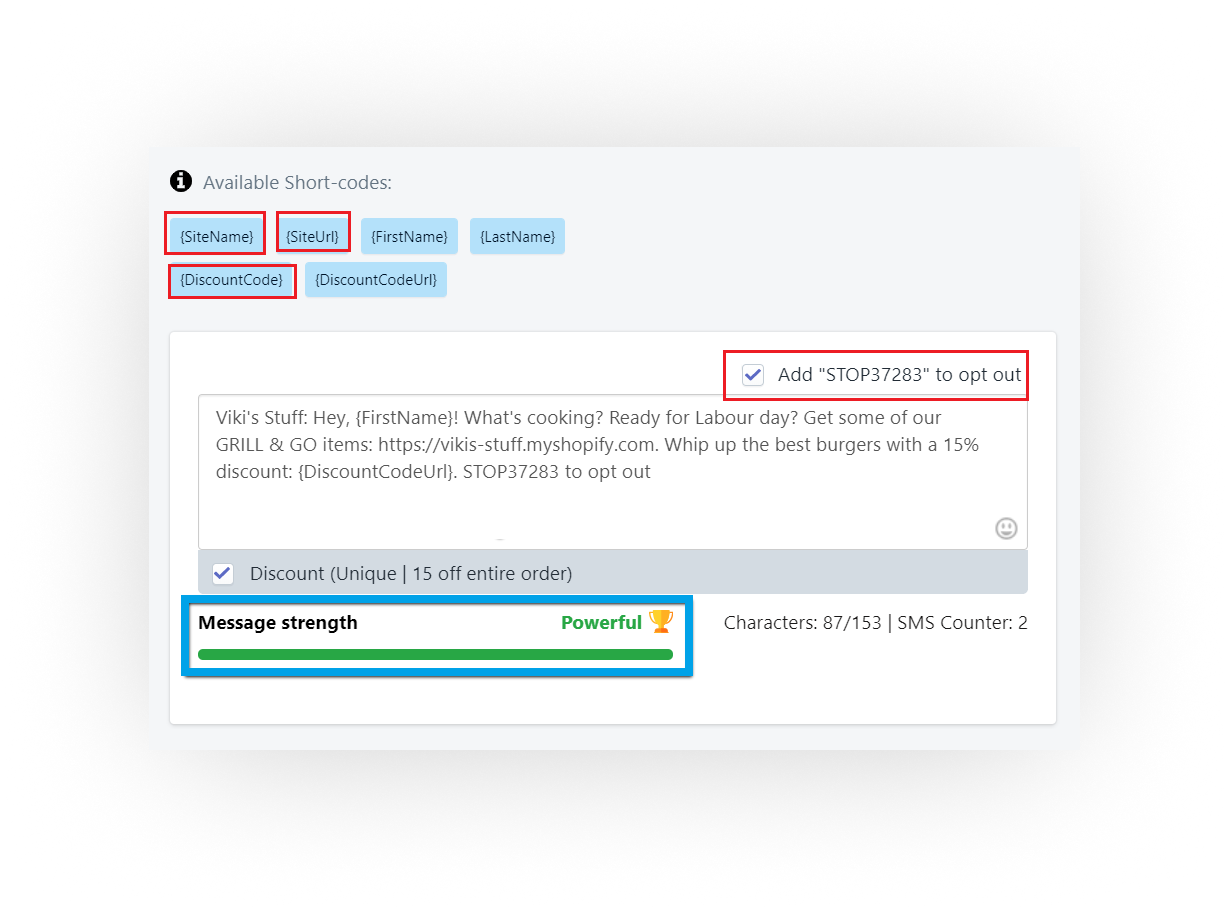 As you can see, with the help of SMSBump's Strength Meter, you can easily master the art of text messaging to bring higher ROI in no time.
Add Discounts In Your SMS Marketing Campaign
SMSBump offers you three different types of discounts:
Fixed amount
Percentage
Free shipping
Choose the discount type suitable for your promotion. While crafting a compelling text message, you'll come across the discount option as explained above. Once you click on it, it will display the discount types. Select it, and make sure to check the "Unique code per client" box.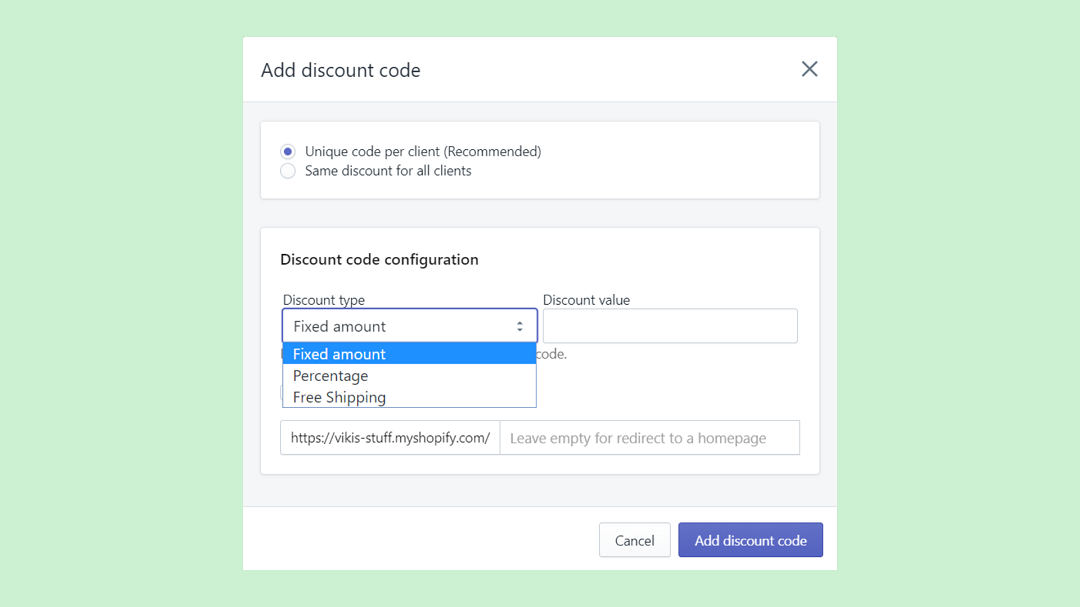 If you select the "Same discount for all clients" option, you'll be able to set a standard discount for all your customers. If you don't have predefined discounts, then you need to create one. Just head over to Discounts > Create discount code from the Shopify menu. Now, set the code, choose the type and value, and save your discount code at the bottom.
Once you're done, check the "Embed the discount code in a link" option and hit the Add discount code button.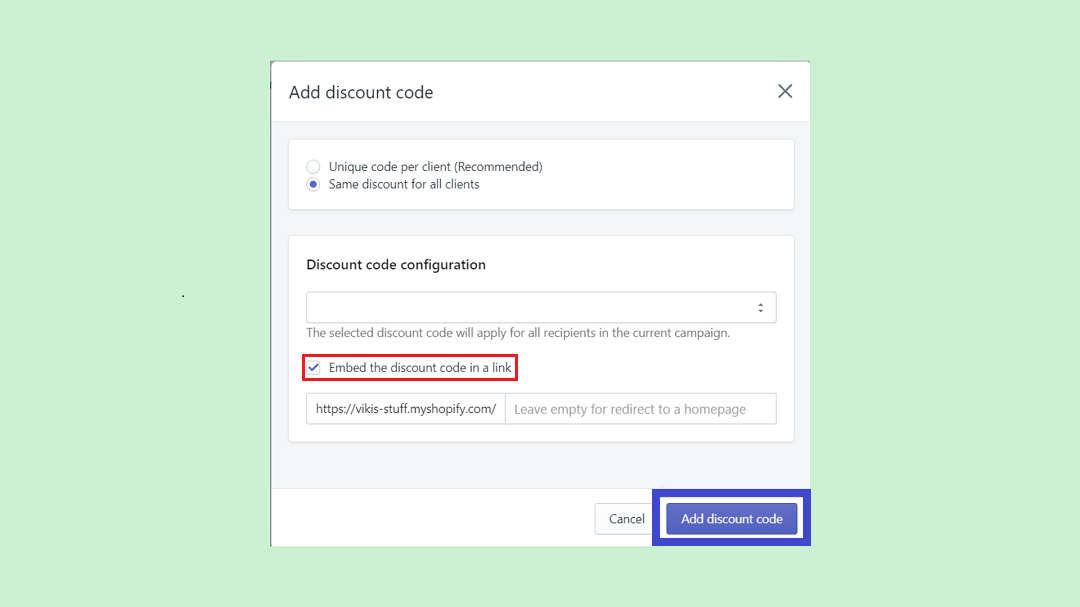 Tip: Consider including the discount code field in your actual message. This will boost your discount visibility and make it easier for customers to shop once they've received your text on a different device.
Finally, click the Review and Send Campaign button to send out your campaign. If you want to change some stuff, hit the Edit button next to your campaign overview. You can further track your discounts by visiting the Discounts page on Shopify. Here, you'll find information regarding:
Discount type
What it applies to
Usage limits
Start and End Date of your discount campaign
Wrapping Up
Multi-touch communication is now considered one of the most actionable ways to boost brand awareness and generate more sales. With practice, it can be a great way to determine which marketing tactics will gradually yield the highest response.
As you can see, multi-touch marketing has become today's norm. So, your next step should be to explore the available tools like SMS, and services like SMSBump to help you thrive and collect leads of the highest value.
If you found this article helpful, make sure to share it with your friends. Also, let us know if you have any queries or suggestions concerning multi-touch communication for increased sales and text-based marketing in the comments below.